Missouri Snow Goose Hunting - Guided Snow Goose Hunts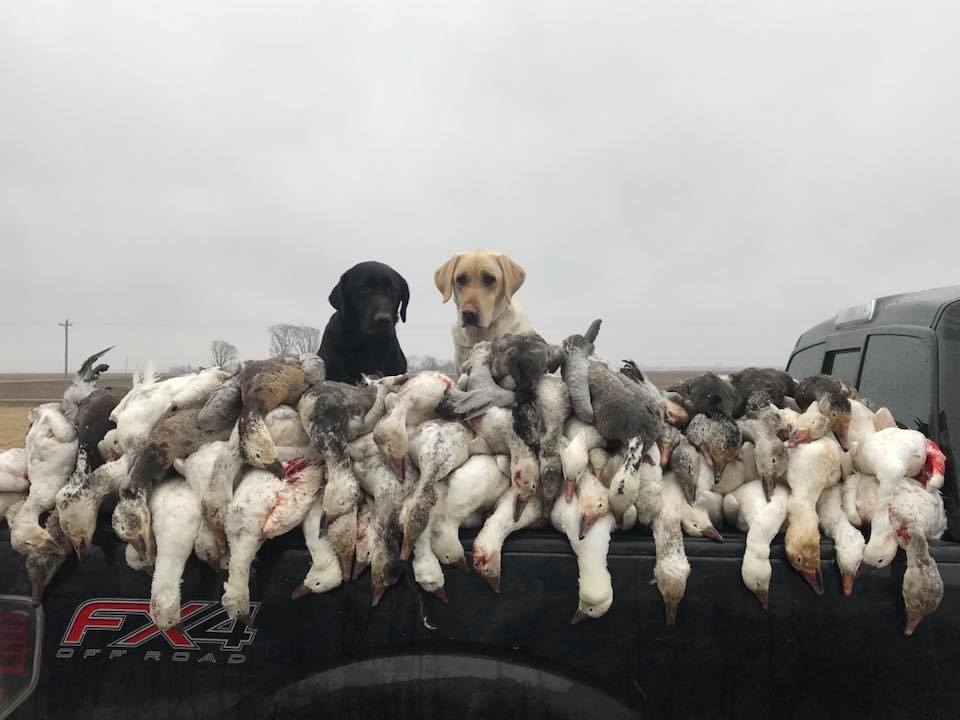 Our Hunt Location
Here at X-men we strive to put you in the best opportunities possible! Our hunt locations in Missouri do just that. We hunt in the surrounding cornfields outside of the Grand Pass Wildlife Refuge which is located near the town of Marshall. This area is so abundant with waterfowl that it's part of the Golden Triangle and you won't be disappointed as on any day you could see a million snow geese.
We focus our spreads in certain locations to put you in the best spot to get on birds. Some of our spreads are close to the refuge so we can take advantage of birds that are coming off the refuge to go out to fields to feed in the morning and evening. It is quite a sight seeing thousands of birds taking off at once. Our other spreads try to take advantage of migrating snow geese. After long journeys snow geese are looking for area where they can rest and feed. We take advantage of this by hunting hilltops where we are very noticeable.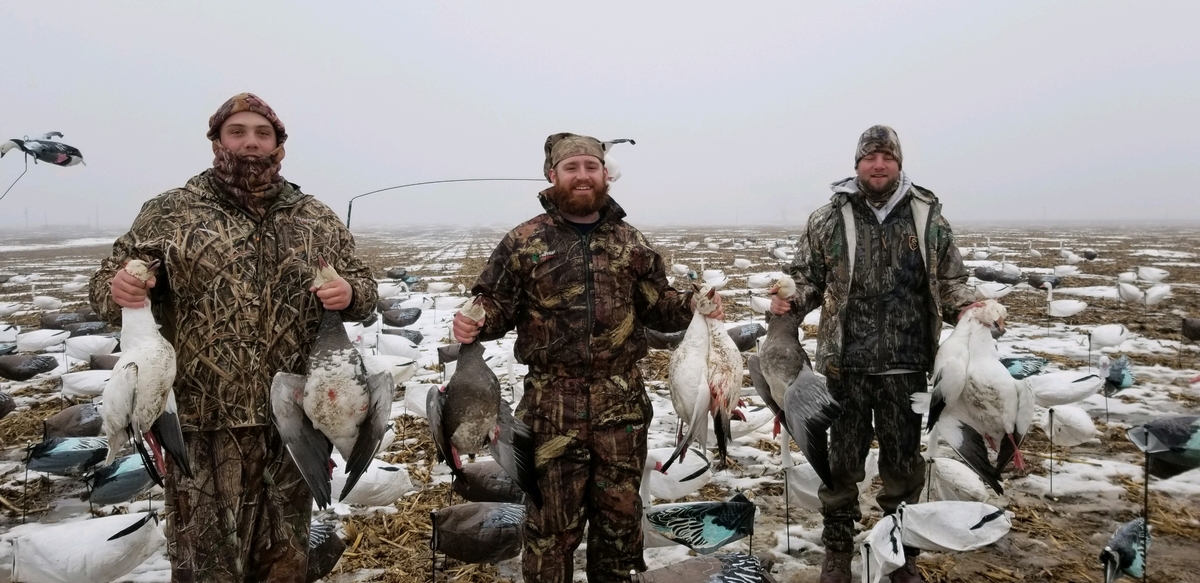 Missouri Spring Snow Goose Season
We hunt in Missouri from the beginning of February to early-March. This gives us ample time to hunt adult snow geese as they begin to head north and also most of the juveniles heading north. A typical hunting day with us usually consists of us all meeting at the lodge in the morning or the night before. Each spread is usually within a 10-minute drive from the lodge. We strive to be in the field an hour before sunrise so everyone can get situated and callers/flyers can be set up. With the X-men you hunt all day. If needed we can head in for a lunch break but otherwise you can bring food along so you can be in the field all day. We hunt until a half hour past sunset and then return to the lodge where bird cleaning is offered ($1.50 per bird) or you can clean your own birds.
Our Lodging
The lodge has some of the finest accommodations in the area. It can accommodate up to 14 people with 10 bedrooms and 4 showers. With this lodge you are offered the option of bringing your own food to cook or you can request meals be made for extra cost. Also, there is a bar area, living room, and TV. Lodging is subject to availability and is not included in the hunting package.
We also have hotel recommendations available is lodging is full. We recommend Comfort Inn in Marshall, Missouri.
Not only do we strive to provide the best hunt experience but also the best lodging.
What To Bring
What to bring on your Missouri Spring Snow Goose hunt.
Gun: Preferable to bring a 12 or 20 Gauge shotgun
Ammo: 6 boxes minimum (BB,2,4,etc) as it is a smart idea to have at least 2 boxes per day
Spare shotgun in case or problems in field
Cleaning supplies:

Gun cleaning kit
Gun Oil
Cleaning cloths
Clothing: We recommend bringing hunting gear that can be used in conditions ranging from 0-70 degrees. Some key items include:

Facemask/stocking cap (white)
Headlamp
Sunglasses
White clothing
Mud/warm boots
Coveralls/bibs
Rain gear
Warm gloves
Hand/boot warmers
Foam pad: Helps keep you comfortable when hunting and dry on wet days
Spring Conservation License and Hunter Safety ID
Snacks/drinks
Cooler and trash bags: Are smart to have for bird processing and getting your game home