South Dakota Snow Goose Hunting - Guided Snow Goose Hunts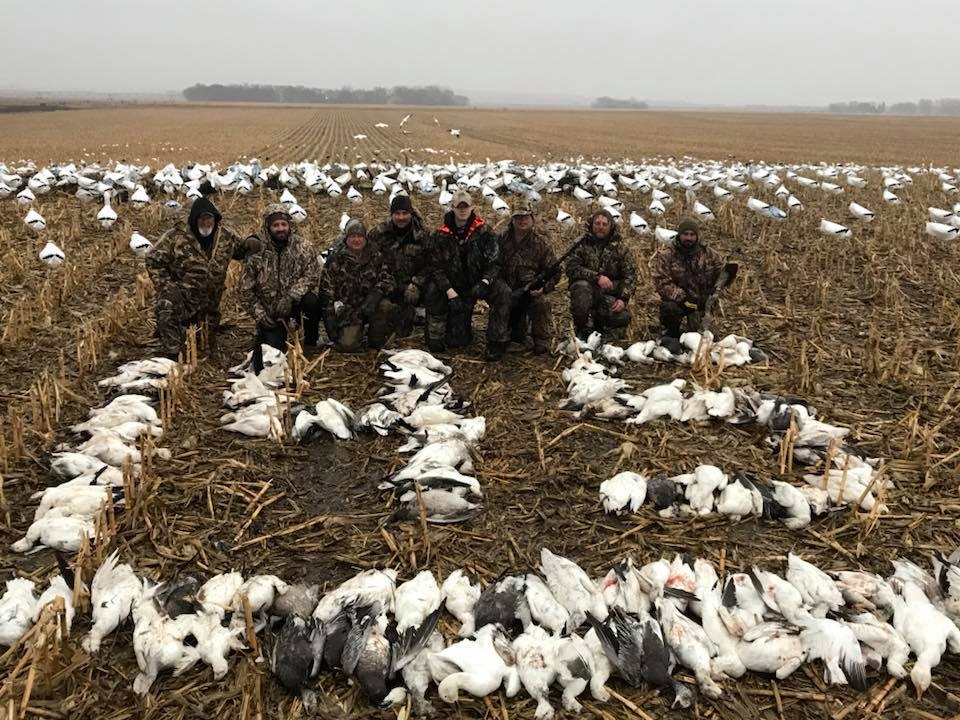 Our Hunt Location
As most of the snow geese head north so do the X-men. By hunting in South Dakota, we are able to once again hunt the birds we saw in Missouri as they head up to Canada to their breeding grounds. We hunt along the Missouri River near the town of Tabor. The River is a huge holding area for millions of snow geese in the Spring and being close to the river is the perfect location for us to take advantage of geese going out to feed in the surrounding bean and cornfields which we hunt. We begin to hunt in the end of February and hunt until the geese move out of the area. Usually this is around a 3-4 week span.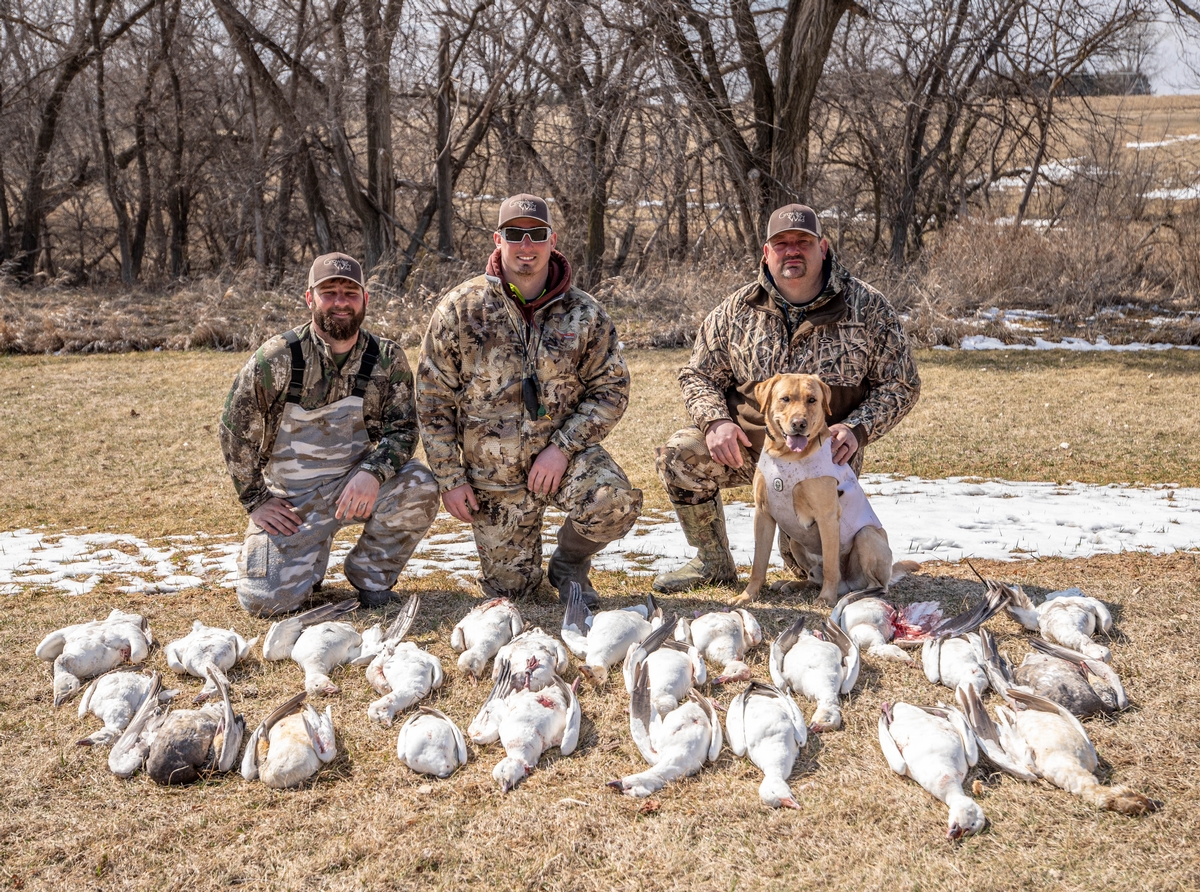 South Dakota Spring Snow Goose Season
Our South Dakota hunts are offered in 1 day, 2 day, or 3 day hunts. We prefer our clients to do 3 day hunts as due to weather and bird migrations this ensures that you will for sure have 1 or more good day of hunting. Our hunts begin with our guides meeting you at the lodge or hunting site. Usually we are in the fields a hour before sunrise to do any set up and get hunters situated. This gives us plenty of time to get ready for shooting light a half hour before sunrise. The X-men strive to hunt all day but if needed we can take lunch breaks or you can bring food along to the field. The hunt ends a half hour past sunset and then we return to the lodge. Bird cleaning is offered ($1.50 per bird) back at the lodge or you can take and clean your own birds.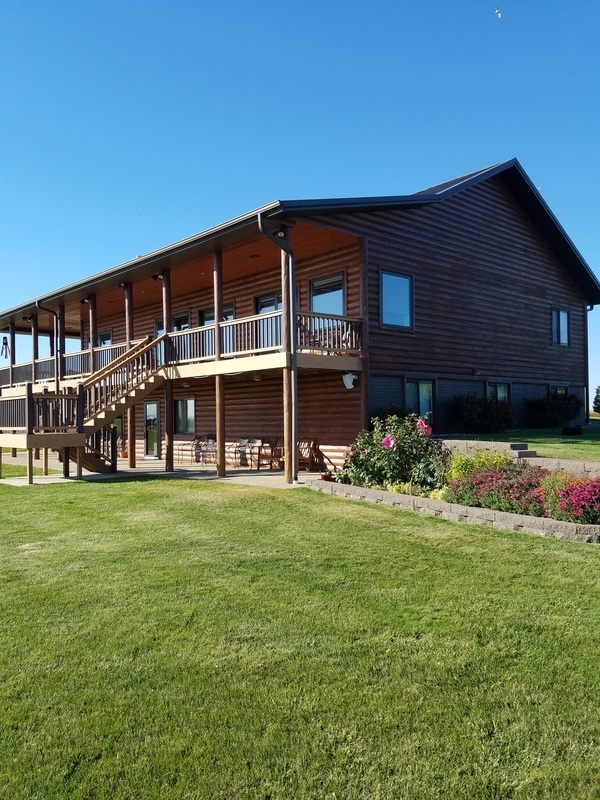 Our Lodging
With a lodge located on the bluffs overlooking the Missouri River you can be guaranteed a first class view along with first class accommodations. The lodge consists of 5 bedrooms which can accommodate up to 12 people comfortably. There are 3 full baths, living room, TV, and a full-size kitchen that can accommodate to all your needs. Meals are offered during breakfast, lunch, and dinner for a cost or you can bring your own food. Can also have lunches made to bring into fields. Dinner meals consist of gourmet meals such as prime rib or steak. There is also an option of going into the town to have a seafood meal of all you can eat crab legs. Lodging is not included in the hunt package and is subject to availability. If you don't want to stay in the lodge we do offer other affordable accommodations. There is an option to rent a heated yurt that can accommodate up to 6 people. In addition to the yurt, we have campers that may be available to fit your group also. Near the yurt and campers, there are heated showers/bathroom facilities available for use. If lodging is booked, there are 1-2 hotels nearby that can provide accommodations as well.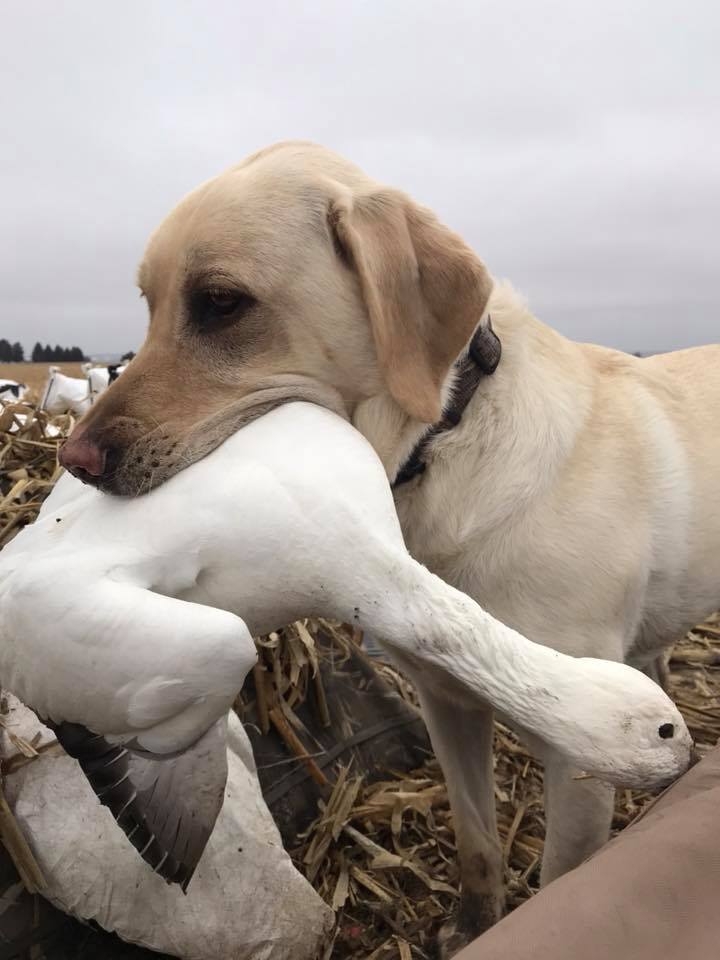 What To Bring
What to bring on your South Dakota Spring Snow Goose Hunt.
Gun: Preferable to bring a 12 or 20 Gauge shotgun
Ammo: 6 boxes minimum (BB,2,4,etc) as it is a smart idea to have at least 2 boxes per day
Spare shotgun in case or problems in field
Cleaning supplies:

Gun cleaning kit
Gun Oil
Cleaning cloths
Clothing: We recommend bringing hunting gear that can be used in conditions ranging from 0-70 degrees. Some key items include:

Facemask/stocking cap (white)
Headlamp
Sunglasses
White clothing
Mud/warm boots
Coveralls/bibs
Rain gear
Warm gloves
Hand/boot warmers
Foam pad: Helps keep you comfortable when hunting and dry on wet days
Spring Conservation License/Hunter Safety ID
Snacks/drinks
Cooler and trash bags: Are smart to have for bird processing and getting your game home
South Dakota Conservation Order Permit
To obtain your South Dakota permit, click the following link.